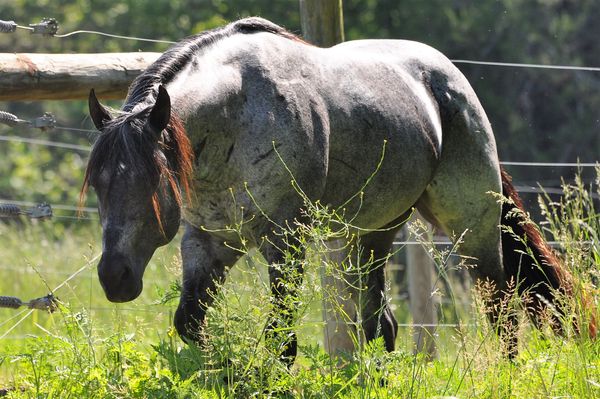 Starlight Blues
2010 Blue Roan Stallion
5 Panel N/N
95% Foundation
Homozygous Roan
Color Tested Ee/aa/RnRn
This Stallion will sire roan foals 100% of the time! He has a wonderful Kind disposition that he passes on to his foals.  His Babies are very correct and have a beautiful hip. His first foal crop is started under saddle and Riding well! These babies should excel in any ranch or cattle event and will make wonderful quiet trail horses. We offer a LFG and are only standing him to a limited number of mares. Live Cover Only.
Starlight Blues Foal Crop
Strum Me A Banjo
2012 Bay Stallion
Banjo Whiz X Cowgirl Affair
NRHA Money Earner
ARHA Money Earner
AQHA AMA ROM Ranch Riding 
AQHA ROM Open Reining
AQHA 2016 World Qualified in JR Reining and JR Ranch Riding
Multiple Circuit Championships
2016 ARHA World Champion JR Ranch Reining
2016 ARHA World Champion in Jr Ranchmanship
2016 ARHA Reserve World Champion Halter Stallion
2016 AQHA Congress Freestyle Reining Top 10
2016 AQHA Congress NRHA open reining top 15
2015 & 2016 AQHA Florida Gold Coast Circuit Champion Open Reining
2016 AQHA Gulf Coast Reserve Champion Amateur Ranch Riding
2016 NCQHA Champion Open Reining
2017 ARHA World Champion Jr Ranchmanship
2017 ARHA Reserve World Champion Jr Ranch Reining 
2017 ARHA Reserve World Champion Horsemanship
2017 AQHA WORLD SHOW QUALIFIED in
Jr Reining level 2 and level 3
Jr Ranch Riding level 2 and level 3
Aged stallions at halter
Ama aged stallions at halter 
Performance stallions 
AMA Performance Stallions
AQHA Mulitple OPEN ALL AROUND EARNER
AQHA AMA ALL AROUND EARNER